From Italy, With Love is turning five soon, and I want to celebrate.
Italy Magazine has officially launched the nominations for the 2017 Italy Blogger Awards to celebrate those who contribute their personal perspective on life, travel and food in Italy, and I'd like you to consider me!
What started as little more than a public diary (complete with "ha ha's" and other cringe-worthy voice-in-my-head expressions) has evolved into something a little more guided. I'm still real with you, but hopefully in a more useful way. I want to highlight the lesser known places in Italy, give advice to help you plan your Big Italy Trip and continue sharing with you the triumphs and trials of life in Italy. I want to give an insight into Italian culture – beyond cappuccinos and Leaning Towers.
If you're reading you either already love Italy, love me, or (hopefully) both. Writing this blog has always been a project done for the love of it, but this year I'd like to try something new. It's time to take all the work of weekly posting and grow my modest blog into something more.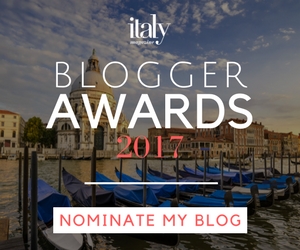 Visit this link or click on the button above to nominate my blog. Nominations are open until the 3rd of December.